Welcome!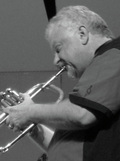 I'm
Jeff Waggoner
, and I'm a retired high school band director from the suburbs of Chicago. I've written quite a few pieces for my own concert bands, marching bands, and jazz ensembles over the years. Now that I have more time available to do so, I'm making some of those pieces available to others.
Since I'm my own publishing company, and I distribute everything as Adobe Acrobat pdf files, I can provide my music to you very affordably - usually for less than half of what a print music publisher charges! (And when your first trumpet player loses his part, you're not stuck - you can just print another!)
You may also wish to visit the my blog at blog.waggonermusic.com.
From time to time I discuss composition, arranging, my journey in using the notation program Sibelius, and concert/marching/jazz rehearsal and performance issues.
I have a number of arrangements for marching band and jazz ensemble available as well. They are not listed on this site, but they are available in a pdf document. If you would like the list, please use the contact form below or email me.
All of the listings on the Music page on this site have links so you can download a non-printing version of the full score, so you can see the whole tune before you buy it. Most have either Sibelius realizations or live performance recording excerpts as well.
The new shopping cart is set up, and the only changes you will see to it is that it will probably be changed cosmetically soon. I can work with school purchase orders, of course! Just email me with your school's information and the music you want and I'll generate an invoice for you!
If you want to find out a little more about me, check out the Bio page. I've also left some performance tips on...wait for it...the Tips page! There will be more tips to come as I have the opportunity to write them up.
I'm also available for clinics, commissions, adjudication and workshops. I would love to come work with your groups! I have learned some "tricks of the trade" over the years and I would be delighted to share them with your students!
My resume of music-related experience can be
downloaded here
.
NEW!
I'm working on a book on how to arrange music for marching band, focusing specifically on arranging pieces of "classical" music (to be technical, orchestral music from the 18th and 19th centuries). As of May, 2013, the book is substantially done but I have editing to do that has been delayed due to family illnesses. I hope to have the book out soon! I've place a sample - the first seven pages - on here for you to download and take a look at.
ePub version of the file
|
pdf version
I've been writing some marching band shows for area high schools lately. I think my experience as a marching band and drum corps judge helps make me a better writer. If you are looking for someone to write your show,
email me
. My rates are reasonable!
Go to online store to order
---