Welcome!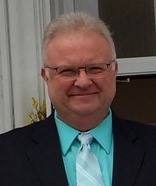 Hi,I'm Jeff Waggoner a retired high school band director from the suburbs of Chicago. I've written quite a few pieces for my own concert bands, marching bands, and jazz ensembles over the years. Now that I have more free time, I'm making some of those pieces available to others.
Since I'm my own publishing company, and I distribute everything as Adobe Acrobat pdf files, I can provide my music to you very affordably - usually for less than half of what a print music publisher charges! (And when your first trumpet player loses his part, you're not stuck - you can just print another!)
I've recently started revising some of my existing files, which were created in
Sibelius
, mostly just to make them more readable and usable by students and directors. It's an ongoing process.
You may also wish to visit my blog at blog.waggonermusic.com.
From time to time I discuss composition, arranging, my journey in using the notation program Sibelius, and concert/marching/jazz rehearsal and performance issues.
I have quite a few arrangements for marching band and jazz ensemble available as well. They are not listed on this site, but they are available in a pdf document. If you would like the list, please use the contact form below or email me.
All of the listings on the Music page on this site have links so you can download a non-printing version of the full score, so you can see the whole tune before you buy it. Most have either Sibelius realizations or live performance recording excerpts as well.
If you want to find out a little more about me, check out the Bio page. I've also left some performance tips on...wait for it...the Tips page! There will be more tips to come as I have the opportunity to write them up.
I'm also available for clinics, commissions, adjudication and workshops. I would love to come work with your groups! I have learned some "tricks of the trade" over the years and I would be delighted to share them with your students!
My resume of music-related experience can be
downloaded here
.
UPDATE!
The marching band arranging book is available as a pdf, but for the moment, only from me directly. My previous distributor/publisher, Marketing Vision Partners, has decided to get out of the online publishing business. To order the book, contact me using the form at the bottom of the page or
email me
. See the
Arranging Book Page
for more details about the book. The page I have created for owners of the book will grow and develop with time. I hope it will be a resource for those interested in the art and science of marching band arranging. I plan to publish a Second Edition this coming winter - it was supposed to come out last spring but things in the arranging world change rapidly, and I found there was too much I wanted to include for the time I had available.. While some arranging principles will always stay the same, changes in technology continue to improve our work as arrangers, composers and performers. Over the past few years many bands have begun using amplification on the field - not only for reinforcing front ensemble percussion, but for enhancing soloists, providing source music used before and/or during the show, and even correcting balance issues within the wind section. I've judged quite a few bands over the past couple of years that are creating some interesting sounds on the field with creative use of amplification. I plan to include a longer discussion of this quickly-changing area in the Second Edition. I also plan to upgrade all the screen shots to the most recent version of Sibelius, and I will include a section on new options for playback of scores using third-party sound files. Here's the bonus: if you buy the book from me before the Second Edition is published, I will send you a copy of the Second Edition FREE when it is available. What's not to like in a deal like that? The book currently sells for $ 30.
The arrangements shopping cart is not good. I know it. I need to tackle that as soon as the competitive marching season is over. I'm judging at eight shows this fall, so there has been little time for anything else. No more excuses!
I've been writing some marching band competition shows for area high schools lately. I believe my experience as a marching band and drum corps judge is making me a better writer. If you are looking for someone to write your show,
email me
. My rates are reasonable!
Last modified on October 19, 2016
Go to online store to order
---